If you've never been to a divisional, should you go? Absolutely.
SCCA Midwest Division
Extended Family
Ozark Mountain Region SCCA is just one of 15 chapters within the SCCA's Midwest Division (MiDiv) that spans Nebraska to Mississippi. We all get together on occasion to compete in division-wide competitions in autocross, road racing, RallyCross, and more. Driving in these events guarantees your circle of racing buddies grows far and wide.
Different Levels of Autocrossing
The monthly autocrosses held by OMR are called Regional Solo events, and are primarily attended by local drivers. Divisional-level Solo also attract competitors from neighboring regions all over the Midwest. They are a mid-level autocross, one step above our local events, and one notch below National-level autocrosses that draw entrants from all over the country.
A new experience
The MiDiv Solo Series is a fun mix of local atmosphere, bigger turnouts, and greater competition. You will get to meet and compete against fellow autocrossers from regions all over the map, and see a variety of different performance cars. It's a taste of high-level Solo mixed with local flavor, great for autocrossers veteran or novice.
Event Basics
When and Where
See the
MiDiv Solo Series schedule here
.
Format
This is two full days of autocross. Each day is scored separately for series points in case you can't make either Saturday or Sunday, so don't be dissuaded from attending if family or work prevents it. However, to "win" the weekend, your best time from each day will be combined. If you competition is close, it's possible to win or lose based on your performance on Sunday!
OMRSCCA Points
As the host region, local attendance at the Crowder Neosho event is important to making it a success. If you are a member of our region, the combined two-day result will count as a single event towards the OMR points championship.
Pre-registration
Pre-registration is required, and no walk-ups will be allowed. Payment can be in person, but registration must happen in advance. Due to the anticipated size, we need to know the entry list in advance to establish grid/heat/work assignments, catering/meal head counts, etc.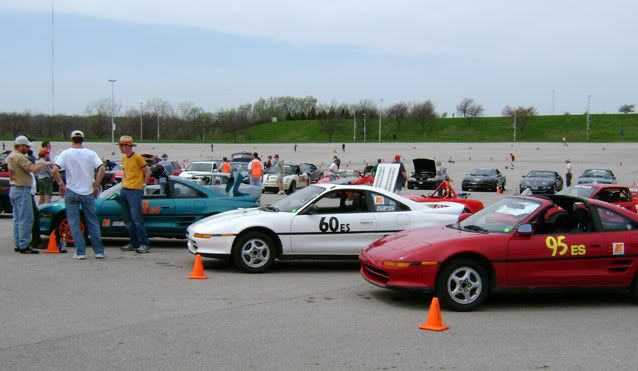 Past Kansas City Divisional
What's Different?
More space, more eats
Crowder College Trucking School is nice enough to give us the run of the place. Paddock where you park and unload your car will be in the small asphalt lot across the street from the usual competition area. The "big" lot will be all for course. We will also have registration and tech inspection in the nearby classroom building. Snacks on Friday and dinner on Saturday will be provided with your entry fee.
Heats and Worker Assignents
All cars in the same class will run in the same heat right next to each other for fairness, and that heat will be assigned to you. This lets you run in the same conditions as your competitors, and be gridded next to one another. Car counts and worker stations will be balanced based on entries at the close of registration.
Friday Registration
Sometimes tech and registration happens on Friday. You will be required to run a handful of contingency stickers, and tech will provide them and verify that they are on the car. If you can't make Friday tech, make an appointment with the event chair.
Earlier Start Times
The events starts earlier than you may be used to seeing. The first car might be off at roughly 9:30 AM on Saturday and 8:30 AM on Sunday. Turnouts tend to be larger, so we want to finish on time. Also, many entrants have long drives home, so we want to end with time to spare on Sunday.
Numbers and Classes
We will not be using the OMR number used during this season's regional events. Numbers will be chosen on a first-come, first-serve basis based on pre-registration. If you have a co-driver, the second driver must be marked with a number 1 in front (i.e. 95 and 195). Cars must be legibly marked with numbers and class letters per the SCCA rules. The same number may be used in different classes.
If you have not purchased magnetic numbers (or static, for composite-bodied cars), this is a good time to purchase a set. Also, we will have loaner helmets available, but again, now is a great time to think about buying your own. Helmets must be Snell rated, so check the rulebook for details.
Solo Performance Specialties
is a title sponsor of the Midwest Division Solo series, and they are experts on helmets, numbers, and other motorsports gear. Send your business their way, and they'll take care of you.
No Passengers
In the SCCA rules, Divisional-level and National-level events do not allow passengers for safety and competitive reasons. We won't turn away your friends and family if they would like to watch, but they will not be able to ride. Grid will be very busy, and we will ask that anyone not supporting the competition remain in a viewing area for safety. Passengers are welcome and encouraged at our regional events, though.
All-weather Competition
We will run the event in all weather. The event will not be postponed for rain unless lightning or other severe conditions threaten, or the rain is too heavy to run the timing beams. The most likely case is that the weather will be warm, and that you will be in the vicinity of pavement most of the day. Prepare yourself with sunscreen, hats, comfortable clothing, and plenty of hydration.
Grid and Impound
Grid spots will be assigned, and the entry list will note where you will be parked. Grid and competition runs will happen much like any other event. Two-driver cars will have a separate row, and be sent to the start line at no less than five-minute intervals for fairness. A minor difference is that at the end of each day's runs, you will remain in grid for a short period called "impound" with your hood and trunk open. Competitors will be given the chance to view each other's cars and the heat's tentative results before being released to paddock by the Grid Chief.
Bottom Line?
There are a few differences, but don't sweat the details. Many events will have a novice course walk and divisional first-timer orientation session on Saturday. OMR's Divisional will be a lot of fun, and you won't want to miss it.
Have a question? Feel free to ask.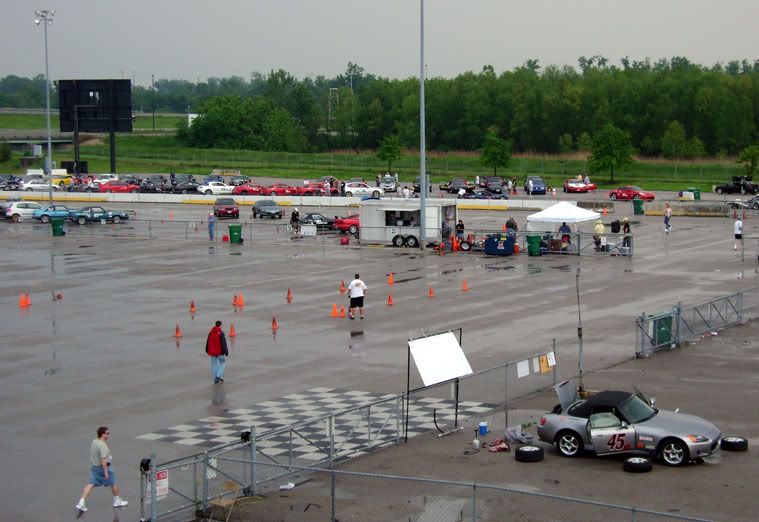 Past St. Louis Divisional